Ikrant Sharma
Education LL.B. from Allahabad University, Faculty of Law in 2000. Diploma in Journalism from Bhartiya Vidya Bhawan, Delhi. Dealing in civil and criminal matters since 2000 onwards. ​ Work Experience : A-Panel counsel of Union of India in the Supreme Court of India. ​ Former Additional Advocate General of State of Nagalend. ​ Legal advisor of Federation of Modal Town Association (Regd.). ​ Secretary of Delhi Metro Rotary Club. ​ Treasurer of Loins Club, Delhi. ​ Experienced in drafting, filing, arguing matters in various legal forums and various courts and tribunals situated in NCT of Delhi. ​ Representing council of various public departments and companies along with private corporations in various courts of India and different Forums like : NGT, DRT/DRAT, NCLT and Consumer Forums etc. ​ Also works as Consultant on Retainership. ​ National President of Lawyer's Vision ( An NGO under the aim of Door-to-Door Justice)
Mukesh Kanchan
I am Mukesh Kanchan, born in Ranchi, Jharkhand. After a year of birth, I got polio but there was a passion for cricket since childhood. I joined the national team in 2002. After playing many national matches continuously I joined the India team for the first time in 2013. I also got the opportunity to become the captain of the Indian Divyang-jan Cricket team for the first time. Under my captaincy, the Indian Divyang-jan Cricket team won many international series. I also gained the experience of captaining the Asia Cup, being a part of the biggest tournament in the world. Under my captaincy, India did many international tours and hoisted the Indian flag in so many countries of the world. I organized 5 international tournaments in Ranchi, Jharkhand. Apart from playing and winning hearts with my game, in 2019 I was nominated as the President of Divyang Cricket Control Board of India. Not only sports, I also gave importance to education in my life, I hold the M.Com degree from Ranchi University, as well as I completed double PG from Psychology. Due to interest in education, I was admitted to Government Teacher Training College in 2012-13, after training I completed B.Ed.
I'm the Founder & General Secretary !!!
Haroon Rasheed
I have been recognized as a fast bowler from Taj Mahal City Agra and as a skilled coach. Unfortunately I got injured while bowling and my cricket career ended. From 2002 I started working for physically disabled cricket players and in 2007 for the first time formed the Indian Cricket Team for the Physical Challenge. Here a new challenge emerged that with whom the Indian Cricket Team for the Physically Challenged would play. That's why I myself contributed significantly to build teams like Bangladesh Sri Lanka Pakistan Nepal etc. Today I am very happy that I have more than 4000 physically disabled cricketers I feel relieved both mentally and heartily by working for these disabled cricket players. I have been honored with India's famous Red and White Brewery Award and Global Excellence Award for service to disabled sportspersons and National Award by Government of India
I'm the Senior Vice Chairman !!!
B.Ramakrishnan
B.Ramakrishnan, known as BRK, has completed Post-Graduate degree in management with specialization in Finance. After a decade of association with the H C Kothari group, he started his own consulting firm, Corporate Clinic in 2003. He specializes in finance and has started the World's first finance lab - "The BRK Academy" which had been accredited by ACCA, UK, MSME, and GOI. He has conducted several programs related to finance in various colleges in Tamil Nadu. He is presently the Director of the India African Trade council endorsed by MEA, India. Apart from his finance profession, he holds a great interest in the field of cricket and had played for the Kothari's. He has demonstrated phenomenal fundraising capacity for charitable trusts and corporates. He is now appointed as the Vice Chairman of the DCCBI, India. As Senior Vice Chairman, he is looking forward to support the Divyang cricket players and the Board in all their future endeavours.
Ghazal Khan
I'm very keen and dedicative to serve the Physically Challenged youth through the game of Cricket in India and the world. I was passionate about cricket since childhood but unfortunately didn't get the opportunity to play. After completing my MBA, I joined the Divyang Cricket Control Board of India (previously known as Disabled Sporting Society) as a volunteer in 2014 and today I'm designated as CEO of Divyang Cricket Control Board of India. My mission, vision and dedication is to provide the same dignity and platform to the Specially-Abled cricketers as normal cricketers get. I aim to promote this cricket globally. With the grace of the Almighty, I'm also serving at International level and designated as Secretary of International Affairs at International Cricket Council for the Physically Challenged (ICCPC) and Director of International Affairs at International Council of Wheelchair Cricket (ICWC). I dedicate my entire life to Specially-Abled Cricket.
I'm the Joint Chairman!!!
Darshan Tushar Bhatt
I am a seasoned entrepreneur who specialises in business growth. I am currently working on new projects with the goal of "making a difference" by leveraging my background in global technology, media, sports, and social impact. I help mature and early-stage businesses develop and implement strategic plans. I am active in advising and facilitating Intelligent Capital in companies operating in the media/tech, entertainment, gaming, and sports sectors, while keeping a close eye on the strategic potential for mergers and acquisitions in the SEA and Middle East region. My approach is determined, with a zeal to achieve the desired objectives, and my proficiency in expanding capabilities has led to successful stints in the media industry with brands such as Radio Mirchi 98.3 (a TOI owned Company), 92.7 Big FM (Reliance Broadcast Network Limited), UTV (Disney), Percept Live, and GoQuest Media Ventures.
I'm the Joint Secretary!!!
Garima Singh Thakurai
From a very young age I have been interested in studies, sports and arts. Although I could not become a sportsperson myself but it gave me immense pleasure when I heard about physically challenged people playing cricket and I made up my mind to give my energy and time to them. It was a big moment of pride when Divyang cricket control board of India asked me to come on as the Joint secretary. I will carry out this responsibility with my best effort to help the board in providing the players an international platform to showcase their talent and spirit.
Nitish Mishra
I was fond of playing cricket since my childhood and after taking training in a good cricket academy, I played college level and district level cricket. Apart from cricket, I had a lot of interest in computers. I loved programming in computers. Today this interest of mine helps a lot in my profession. I came to know about the Divyang Cricket Control Board of India. I had a meeting with the officials of DCCBI and expressed my willingness to contribute. It was a matter of great pleasure for me that my request was accepted by the official Divyang Cricket Control Board of India gave me an opportunity to serve the disabled cricket players. I am new to this field now, but I am trying to contribute my best. Very soon there will be a revolution in this Divyangjan cricket, there will be a lot of change. I wish that even big events like World Cup and Asia Cup should be organized for these disabled cricketers.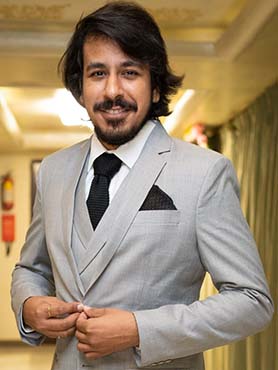 I'm the Vice President!!!
Saiyed Faisal Alvi
joining Sahara India, he established an export oriented brand, named Sahara Kasturi Handicrafts, virtually within no time. He is also credited with successfully establishing CSD Sahara Cricket Academy and CSD Sahara Global Academy. He has been instrumental in organizing various Corporate Tournaments and Women Cricket Tournaments. He has also arranged and managed International Tours for Divyang Cricket Control Board of India (DCCBI) and has sponsored Divyang Cricket Team of India for Triangular Series at Bangladesh with India and Sri Lanka National Divyang Teams in year 2022. Besides these, he recently managed Cricket Match of India and Nepal National Divyang Teams at Nepal. Organizing Wheel Chair Cricket Match for DCCBI at CSD Sahara Cricket Academy spoke volumes about the love Mr. Alvi has for the game of Cricket. Therefore, it goes without saying that Mr. Faisal Alvi is experienced and competent enough for the management of Cricket matches and tournaments of the national as well as international level.
I'm the Vice Managing Director DPL!!!
Mustafa Mohammad Hussain
I reached Dubai in 1976 and joined Dubai Police in 1977. I started my athletic career as a volleyball player with Dubai Police. From 1977 to 1992 I played Volleyball but now I am a player of Shuttle Badminton. I started my company Rose Studios & Stores LLC (General Trading Company) in 1980. With a wide range of activities, we do Professional Corporate Shoots, Video productions, Advertising agency, Event Management, General Trading etc.
Durgesh Sharma
In 2002 I joined IDBI Bank as Sales Executive then got promoted to Team Manager and in 2006 I worked in Axis Bank, then Relationship Manager in Reliance Money and then as Manager at Birla Sun Life Mutual Fund in Jodhpur from 2007 to 2008. I worked as a branch manager in Bharti AXA Insurance Company then I started handling my family business Pan shop with my father. From 2009 to 2014 I represented Rajasthan Divyang-jan Cricket team in different cities of the country in 2015. I met Haroon sir in Asia Cup and went to Singapore, Malaysia, Sri Lanka, Bangladesh, Nepal and played more than 30 international matches as well as national 35 matches, in which I also represented Rajasthan team and won 2-3 Rajasthan Divyang-jan cricket tournament. Inspired by the management, Haroon sir gave some responsibilities in which I also got the distinction of being the manager of the India handicapped cricket team, recently I am the treasurer of the Divyang Cricket Control Board of India.
Muruganraj Ramakrishnan
Muruganraj Ramakrishnan is a Mechanical Post Graduate. He has been passionate about cricket since his childhood and had played cricket for YMCA, along with his professional work in Hinduja Group. He further developed his intrest in cricket and switched to full time career in cricket and has been associated with DCCBI since 2019. He has been putting his best efforts in uplifting the standards of the differently abled cricket players by presenting their talents in the international platform. It is great to know that he along with his mentor Mr. Harron Rashid and team members have conducted the Divyang Premier League (DPL) Season 1 in Dubai. He is currently the director of DCCBI and DPL. The season 1- DPL for the people of determination was a massive success and has provided an international platform for the disabled cricket players of India. He is looking forward to work with the DCCBI in its future endeavors and to work for the betterment of the DPL in the coming seasons. He has wholeheartedly dedicated himself to the field of cricket especially in making the differently-abled cricketing, pride of our nation.
I'm the Marketing Director in DPL!!!
Dr. NM Mohanan
My name is Doctor NM Mohanan I have doctorate degree in Economics I am from Chennai I am 56 years old I am working in marketing in one of the biggest companies in India after graduation. My company is active all over Asia, I currently own event management company and finance consultant education consultant my company is doing very well World class programs Consultations with educational institutes Business company meetings Such things we conduct very carefully. Our company is always ready to do great work so we have all the necessary pleasures.